Buzz Aldrin Autographed – Silver Dollar PR70DCAM (Proof) – Apollo 11 50th Anniversary 2019 – First Day of Issue, Launch Ceremony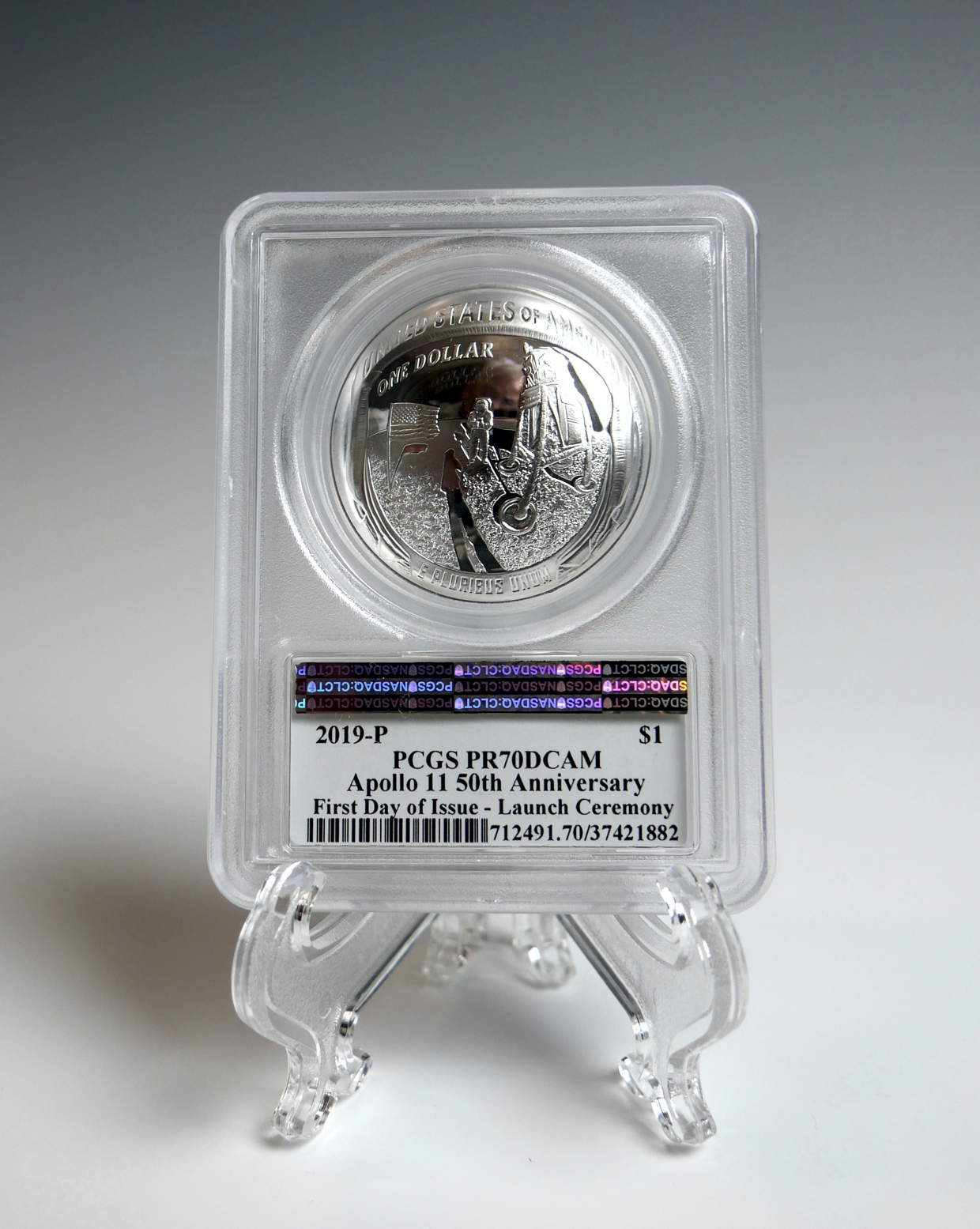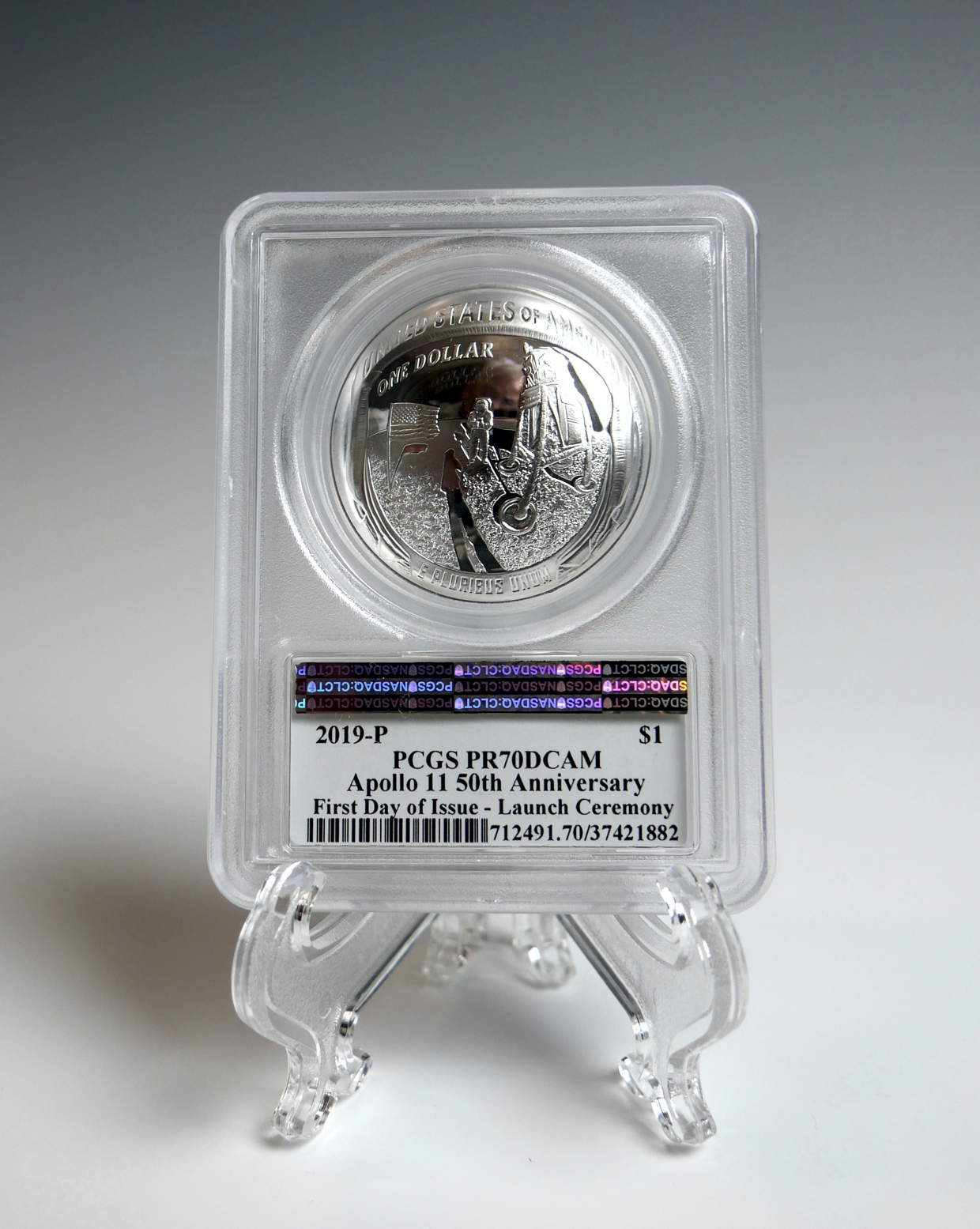 Buzz Aldrin Autographed – Silver Dollar PR70DCAM (Proof) – Apollo 11 50th Anniversary 2019 – First Day of Issue, Launch Ceremony
— includes OGP (Original Government Packing) — with COA
DESCRIPTION:
PCGS PR70DCAM 2019-P Apollo 11 50th Anniversary Silver Dollar (Proof) – First Day of Issue, Launch Ceremony – Hand-signed by Apollo 11 Astronaut Buzz Aldrin
Released on January 24th, this coin comes from the official Apollo 11 50th Anniversary Coin Program Launch Ceremony at Kennedy Space Center. This one ounce silver coin was minted to celebrate the first manned moon landing and is the first United States silver coin with a proof finish, reeded edge, and curved shape. Graded PR70DCAM by PCGS, this coin comes with both a US Mint Certificate of Authenticity and an insert hand-signed by Apollo 11 astronaut Buzz Aldrin. Proceeds from the purchase of this coin benefit The Astronauts Memorial Foundation, an organization dedicated to paying tribute to our fallen astronauts and to inspiring future generations of scientists, technologists, engineers, and mathematicians.
—Image of coin is a representative example of what will be shipped to you.
—Shipping and Handling includes postage to an address within the 50 United States of America. International postage and insurance may require an additional fee, assessed on a case-by-case basis.
_______________________________
BIOGRAPHY:
Buzz Aldrin grew up in Montclair, New Jersey. His mother, Marion Moon, was the daughter of an Army Chaplain and his father Edwin Eugene Aldrin was an aviation pioneer. Buzz graduated one year early from Montclair High School and he attended the US Military Academy at West Point, graduating third in his class with a BS in mechanical engineering. He then joined the Air Force where he flew F86 Sabre Jets in 66 combat missions in Korea, shot down two MIG-15′s, and was decorated with the Distinguished Flying Cross. After a tour of duty in Germany flying F100′s, he earned his Doctorate of Science in Astronautics at MIT and wrote his thesis on Manned Orbital Rendezvous.
Selected by NASA in 1963 into the third group of astronauts, Aldrin was the first with a doctorate and became known as "Dr. Rendezvous." The docking and rendezvous techniques he devised for spacecraft in Earth and lunar orbit became critical to the success of the Gemini and Apollo programs, and are still used today. He pioneered underwater training techniques to simulate spacewalking. In 1966 on the Gemini 12 orbital mission, Buzz performed the world's first successful spacewalk – extra-vehicular activity (EVA), and set a new EVA record of 5 1⁄2 hours. During that mission he also took the first 'selfie' in space.
On July 20, 1969, Buzz and Neil Armstrong made their historic Apollo 11 moonwalk, becoming the first two humans to set foot on another world. An estimated 600 million people – at that time, the world's largest television audience in history – witnessed this unprecedented heroic endeavor.
Upon returning from the moon, Buzz was decorated with the Presidential Medal of Freedom and numerous awards all over the world. Named after Buzz are Asteroid "6470 Aldrin" and the "Aldrin Crater" on the moon. In 2011 along with his Apollo 11 crew mates Neil Armstrong and Michael Collins, he received the Congressional Gold Medal.
Buzz is the author of 9 books, most recently his children's book, Welcome to Mars: Making a Home on the Red Planet and his newest NY Times and Washington Post Bestseller, "No Dream Is Too High: Life Lessons from a Man Who Walked on the Moon". Both published by National Geographic.
In October of 2014 he revamped his ShareSpace Foundation to be focused on STEAM Education – Science, Technology, Engineering, Arts and Math to ignite the spark and fuel excitement for space in kids –Specifically for K-8. In August of 2015 he launched the Buzz Aldrin Space Institute at Florida Tech to promote and develop his vision of a permanent human settlement on the planet Mars.
Since retiring from NASA and the U.S. Air Force, Col. Aldrin calls himself a Global Statesman for Space and has remained a tireless advocate for human space exploration.
_______________________________________
SPECIFICATIONS
Denomination: Dollar
Finish: Proof
Composition: 99.9% Silver
Overall Height: 0.243 inch
Weight: 26.730 grams
Diameter: 1.500 inches
Edge: Reeded
Mint and Mint Mark: Philadelphia - P